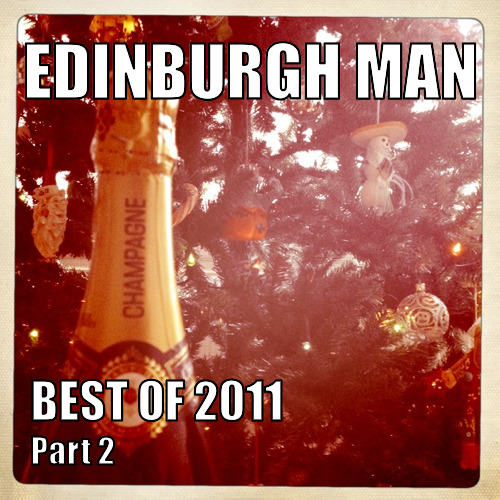 It's the last podcast of the year, time to crack open the Champagne and listen to the second part of the best tracks of 2011, as played on the show, and as voted by listeners of the podcast. Loads of great music on the show today. I would say that, of course, but I really do mean it.
The plan always was to take my top 50 and your top 50 and merge them together, and that's how it went for last weeks show, and the first 10 or so tracks of todays show. However, by-and-large our top 15 tracks were the same, and I found it very difficult to choose between them, so the top 15 here is basically your top 15. Although, you'll be pleased to know, I can't really find fault with it.
Let's see 2011 out in style, with some of the best tracks from the year.
Starters
1. Dum Dum Girls - "He Gets Me High" (Played courtesy of Sub Pop Records)
2. HEHFU - "Winter Sun And Summer Snow" (Played courtesy of Bleeding Gold Records)
The Main Course
25. Plastic Animals - "It Fell Apart" (Played courtesy of Plastic Animals)
24. Birdhead - "Dronebone" (Played courtesy of Birdhead)
23. Mogwai - "Rano Pano" (Played courtesy of Sub Pop Records)
22. Darren Hayman - "I Taught You How To Dance" (Played courtesy of IODAPromonet / Fortuna POP!)
21. Edinburgh School for the Deaf - "Orpheus Descending" (Played courtesy of Bubblegum Records / Edinburgh School for the Deaf)
20. Shambles Miller - "Rapture" (Played courtesy of Shambles Miller)
19. Matt Norris & The Moon - "First Light Of Day" (Played courtesy of Matt Norris & The Moon)
18. Mike Nisbet - "Rolling Thunder" (Played courtesy of Mike Nisbet)
17. Paws - "Lekker" (Played courtesy of Gerry Loves Records)
16. Low - "Especially Me" (Played courtesy of Sub Pop Records)
15. PET - "What You Building?" (Played courtesy of PET)
14. Randolph's Leap - "Deep Blue Sea" (Played courtesy of Randolph's Leap / Olive Grove Records)
13. Trapped Mice - "All In All" (Played courtesy of Trapped Mice)
12. Meursault - "Flittin' (Demo)" (Played courtesy of Song by Toad / Released under a Creative Commons licence)
11. Alligator Indian - "Honey Eye Bee Leave Ewe" (Played courtesy of Alligator Indian / Bleeding Gold Records / Released under a Creative Commons licence)
10. Conveyor - "Sun Ray" (Played courtesy of Conveyor / Released under a Creative Commons licence)
9. Dressed Like Wolves - "Lakes Ghosts and That" (Played courtesy of Dressed Like Wolves)
8. Black International - "Idle Worship" (Played courtesy of Black International)
7. Veronica Falls - "Bad Feeling" (Played courtesy of Slumberland Records/ IODAPromonet)
6. Zoey Van Goey - "You Told The Drunks I Knew Karate" (Played courtesy of Chemikal Underground / Zoey Van Goey)
5. The Moth & The Mirror - "Fire" (Played courtesy of Olive Grove Records)
4. Rob St. John - "Sargasso Sea" (Played courtesy of Song by Toad)
3. The Stormy Seas - "Morbid Desires" (Played courtesy of The Stormy Seas / The Shipping Forcast)
2. The Last Battle - "Viv Nicholson" (Played courtesy of The Last Battle)
1. The Spook School - "History" (Played courtesy of Spook School / Released under a Creative Commons licence)