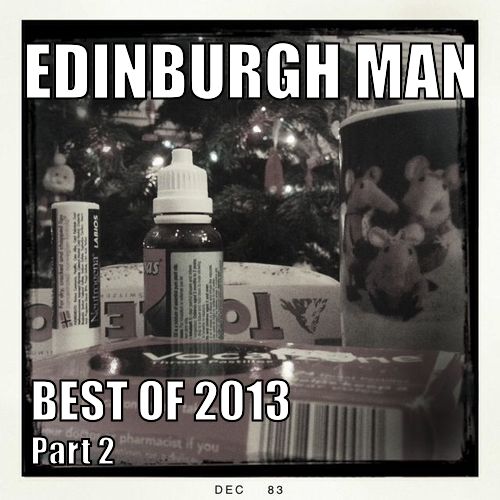 Boxing Day 2013. I have a cold. Not just a regular cold. But one of those really annoying colds that you only ever seem to get at the Christmas holidays. Trouper that I am I've stocked up on drugs, menthol oils, lozenges, cups of tea and Toblerone. I reckon we should be able to make it through the two hour epic that is the BEST OF 2013 PART 2 no problem.
It's a pretty exciting list too. Eight of the top ten tracks are from Scottish bands, and while the top two were way out in front, at the end they were separated only by a single voter. The closest the poll has ever been.
Anyway, get yourself a glass of mulled wine, put your feet up in front of the fire, and enjoy the 25 top tracks of 2013 as chosen by the listeners of the Edinburgh Man Podcast.
Oh, and the podcast is now on its annual winter break. It will return refreshed on the first Thursday of February. See you then!
25. Tear Talk - "B R E A T H E" (Played courtesy of Bleeding Gold Records)
24. The Last Battle - "Wherever Our Feet Take Us" (Played courtesy of The Last Battle)
23. Low - "Clarence White (Live)" (Played courtesy of Low)
22. Colour Me Wednesday - "Shut" (Played courtesy of Colour Me Wednesday, Released under a Creative Commons licence)
21. Martha - "Sycamore" (Played courtesy of Martha, Released under a Creative Commons licence)
20. Conquering Animal Sound - "The Future Does Not Require" (Played courtesy of Chemikal Underground)
19. Satan Wriders - "Freeway" (Played courtesy of Satan Wriders, Released under a Creative Commons licence)
18. Euros Childs - "Tina Said" (Played courtesy of Euros Childs)
17. A Little Orchestra (with Gordon McIntyre of Ballboy) - "East Coast" (Played courtesy of A Little Orchestra)
16. Over The Wall - "Tell Her I Love Her" (Played courtesy of Gerry Loves Records)
15. Plastic Animals - "Pizarnik" (Played courtesy of Song by Toad)
14. Aidan John Moffat - "The Poet Holds His Future In His Hand" (Played courtesy of Aidan John Moffat, Released under a Creative Commons licence)
13. The Planes - "Sonic Youth" (Played courtesy of The Planes, Released under a Creative Commons licence)
12. Just Handshakes - "London Bound" (Played courtesy of Bleeding Gold Records)
11. Trips and Falls - "Destruction is Always More Exciting" (Played courtesy of Song by Toad, Released under a Creative Commons licence)
10. A Brief View of the Hudson - "Somewhere Elsewhere" (Played courtesy of A Brief View of the Hudson)
9. By Toutatis - "Rebecca" (Played courtesy of By Toutatis)
8. Rick Redbeard - "Kelvin Grove" (Played courtesy of Rick Redbeard / Chemikal Underground)
7. Randolph's Leap - "Real Anymore" (Played courtesy of Olive Grove Records)
6. The Spook School - "I'll Be Honest" (Played courtesy of Fortuna POP!)
5. Sparrow and the Workshop - "Shock Shock" (Played courtesy of Song by Toad)
4. eagleowl - "not over" (Played courtesy of eagleowl)
3. Adam Stafford - "Please" (Played courtesy of Song by Toad / Adam Stafford)
2. Kid Canaveral - "A Compromise" (Played courtesy of Kid Canaveral / Lost Map Records)
1. Book Group - "Victory Lap" (Played courtesy of Gerry Loves Records)