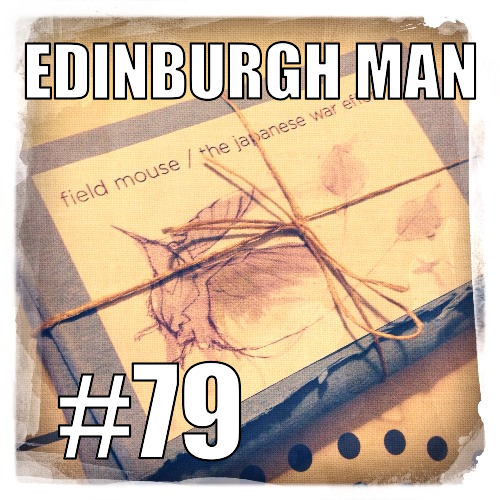 Bah. It's too cold for this sort of thing. Why did I think it was a good idea to move the podcasting station near the window? Winter has hit, it's windy as all hell out there, and I'm a bit chilly as I do podcast 79. Hopefully you can't hear "Hurricane Bawbag" outside, or my teeth chattering.
It's also that time of year when new releases often seem to dry up, so I have been listening to some older stuff for the last seven days... hence a few oldies on the show today. But thankfully Edinburgh based record labels Song by Toad and Gerry Loves Records keep the new releases coming. First up is a track from the new split cassette on Gerry Loves Records. It's a track from Field Mouse, who I have to admit I hadn't heard before seeing him at the Gerry Loves Xmas gig on Friday night. His set was great and the cassette release, along with the Japanese War Effort, is a thing of beauty. Also on the show is a track from the Lil Daggers self titled album. It's the last release of 2011 from Song by Toad, and it's a belter too.
Oh - and assuming that you're listening before the 15th of December. You can still vote for your favourite tracks of 2011 as played on the show. Just follow the link at the top of the page.
1. Field Mouse - "Toy" (Played courtesy of Gerry Loves Records)
2. Lil Daggers - "Wasting" (Played courtesy of Song, by Toad)
3. HEHFU - "Learning Dutch" (Played courtesy of HEHFU / Bleeding Gold Records)
4. Kitkarma - "Trapped!" (Played courtesy of Kit Karma / Released under a Creative Commons licence)
5. Tender Trap - "Fireworks" (Played courtesy of Fortuna POP! / IODAPromonet)
6. Lisbonne - "So Long" (Played courtesy of BEKO DSL / Released under a Creative Commons licence)
7. Low - "Silver Rider" (Played courtesy of Sub Pop Records)
8. entertainment for the braindead - "An Island (Yorckstraße)" (Played courtesy of entertainment for the braindead / Released under a Creative Commons licence)