On today's show, I rush back home from being at an in-store gig and jump straight into recording a podcast.
Edinburgh band My Tiny Robots were playing a gig in Urban Outfitters of all places. But there was free cider, so I couldn't really not go along. There's no tracks by My Tiny Robots in the podcast, but I recommend that you check out their myspace page. They also supported the Dum Dum Girls in Edinburgh earlier on this week, and I do play a track by the Dum Dum Girls. There's also a brilliant fun track from the upcoming Vaselines album, a great track by Nan and the One Night Stands, and lots more.
This podcast is also a bit longer than normal. I think that's because I talk to much. One of the things I talk about is the Podcast Squared podcast which I was recently interviewed for. You should check out that podcast if you want to hear my talking even more rubbish than normal.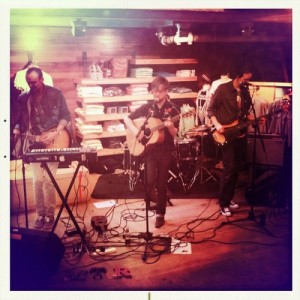 1. The Vaselines – "I Hate the 80's" (download track free and pre-order album from Sub Pop)
2. Dum Dum Girls – "D.A.L." (download track free and buy from album Sub Pop)
3. Xiu Xiu – "This Too Shall Pass Away (For Freddy)" (download track free and buy album from killrockstars)
4. Nan & The One Night Stands – "High Ceilings" (buy album from Olive Juice Music)
5. Memoryhouse – "To the Lighthouse" (download track free from BEKO DSL)
6. Me You Us Them – "Me You Us Them" (download track free from Bandcamp and buy album from Amazon or eMusic)