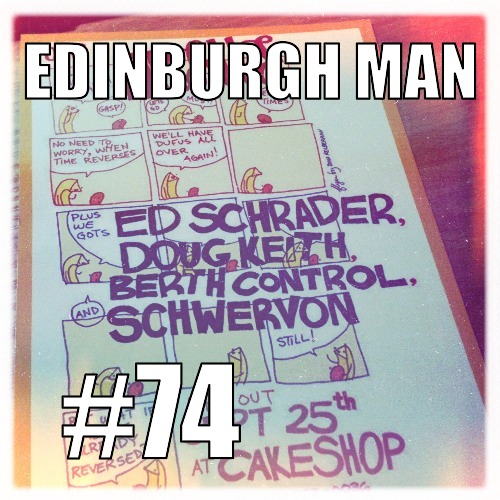 I went to one gig in the last week. Which doesn't seem too bad on account of the fact I'm playing my gig-going by ear at the moment, however it feels like there have been decent gigs on pretty much every night for the last two weeks, and the next week is shaping up to to be more of the same. The gig was Jeffrey Lewis & The Junkyard at The Third Door here in Edinburgh. But I was also excited because Seth Faergolzia from Dufus was playing a solo support set. A couple of years ago I was in NYC and picked up a flyer (picture below) in Cake Shop for the last ever Dufus gig. Unfortunately it happened to be the same day we were flying back home. So while we were sitting in Newark airport, back in the city we were missing would looked like a great gig, with special guests Adam Green and Regina Spektor, and even the New York Fire Department.
A slight change on today's show. There are more tracks than normal. Until the end of the year I'm going to try for 8 track shows. I'm going to give Mixcloud another go, and for music shows they have (for some mysterious reason) a minimum of 8 tracks. This is despite the fact the podcast never got anything more than 1% listens from Mixcloud... but maybe I didn't tried hard enough.
Enough of that, let's talk music. We start off with a track from Austria's Ana Threat, which blew me away when I listened to it a few days ago, not least because of a large madness factor. You'll see what I mean when you listen to it. There's also a brilliant track from Trips and Falls on Edinburgh's Song, by Toad Records. It actually came out in September, but for some reason I thought I'd already played the track on the show, so when I realised I hadn't I just had to play it. There's loads more music too... Like I say, 8 tracks in total! Crazy.

1. Ana Threat - "I Can Only Give You Everything"
2. Big Troubles - "Sad Girls"
3. Laura K - "Saboteur"
4. Dad Rocks - "Weapons"
5. Tiger Waves - "It Could Never Stop"
6. Sam Collins - "Devil in the Lions Den"
7. NO FUN - "First Time"
8. Trips and Falls - "This is All Going to End Badly"