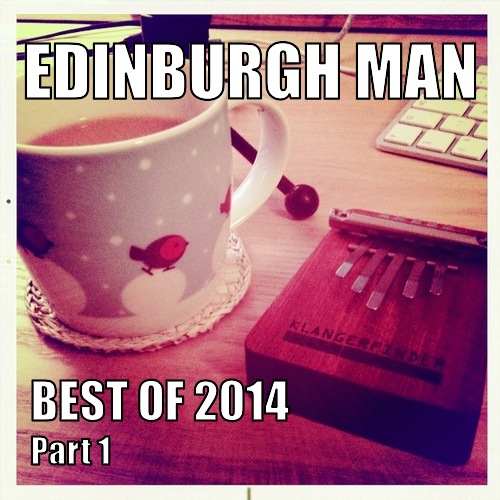 I have port (both store bought and home made) and a thumb piano. This can only mean it's the first part of the annual Edinburgh Man end-of-year poll results show.
Throughout the month of December listeners to the podcast have been voting for their five favourites tracks from 2014 that were played on the show. These votes have been counted and crunched and the resulting list will be played over two shows. This is the first one - tracks 50 down to number 25.
A word of warning - I consume two glasses of port throughout the podcast and there is some rambling as a result. Next time I'll stick to Christmas tea. Honest.
50. The Belly of Paris - "There Was No Snake" (Played courtesy of The Belly of Paris)
49. Siobhan Wilson - "Dear God" (Played courtesy of Song, by Toad Records)
48. Tape Waves - "All I Can See" (Played courtesy of Bleeding Gold Records)
47. No Kill - "Big Muff Scream" (Played courtesy of No Kill)
46. Townhouse Woods - "Cricket Hymn, Pt. I" (Played courtesy of Townhouse Woods, Released under a Creative Commons licence)
45. Trick Mammoth - "Candy Darling" (Played courtesy of WIAIWYA)
44. Ivor MacGyver (The Spook School + The Just Joans) - "Saliva" (Played courtesy of Eardrums Pop, Released under a Creative Commons licence)
43. David Thomas Broughton & Juice - "In Service" (Played courtesy of Song, by Toad Records)
42. Radiator Hospital - "Blue Gown" (Played courtesy of Radiator Hospital, Released under a Creative Commons licence)
41. Bastard Mountain - "Swam Like Sharks" (Played courtesy of Song, by Toad Records)
40. Book Group - "Get Up And Go" (Played courtesy of Book Group)
39. Star Wheel Press - "Multiple Personality Murder" (Played courtesy of Dull and Indifferent)
38. The Saurs - "Close-up" (Played courtesy of The Saurs, Released under a Creative Commons licence)
37. Nallo - "Isla Vista" (Played courtesy of Nallo / Ecstattic Studio)
36. Colour Me Wednesday - "Half A Life" (Played courtesy of Colour Me Wednesday, Released under a Creative Commons licence)
35. KEEL HER - "(I Hate It) When You Look at Me" (Played courtesy of KEEL HER, Released under a Creative Commons licence)
34. Randolph's Leap - "Foolishness Of Youth" (Played courtesy of Randolph's Leap)
33. Stanley Odd - "Pastimes" (Played courtesy of Stanley Odd)
32. joyride! - "jump start" (Played courtesy of joyride)
31. CRUISING - "You Made Me Do That" (Played courtesy of Soft Power Records)
30. Bikini Jesus - "Under A Spell" (Played courtesy of Bikini Jesus)
29. Love Starved Women of Beatnik Island - "Are You a Song?" (Played courtesy of Love Starved Women of Beatnik Island, Released under a Creative Commons licence)
28. the second hand marching band - "This is the Story" (Played courtesy of the second hand marching band, Released under a Creative Commons licence)
27. Cat Smell - "Cheap Date" (Played courtesy of Cat Smell)
26. eagleowl - "Life We Knew" (Played courtesy of wiaiwya)
25. Yusuf Azak - "Fuel (Piano Version)" (Played courtesy of Gerry Loves Records)