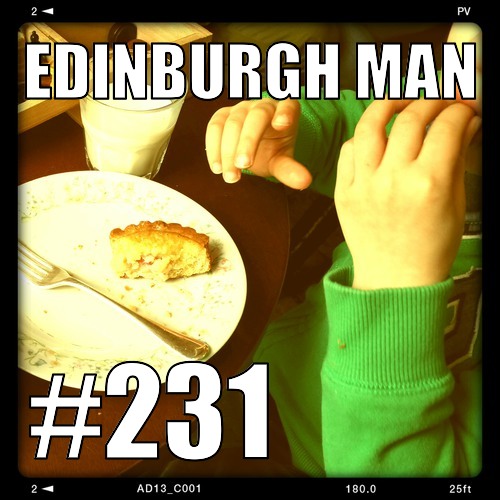 Podcast Number 231, or "Edinburgh Man and Edinburgh Man Junior's Alternative Record Store Day". For yes - Edinburgh Man Junior makes his proper podcasting debut on this week's show.
In celebration of Record Store Day here is a special behind the scenes insight into how the two Edinburgh Men spend this annual event. Once upon a time it used to be about queuing in the cold at 7am to buy wacky coloured repressings and crazily priced box sets. But that's all in the past. I can't even keep up with vinyl releases throughout the rest of the year let alone the RSD ones too.
Our day involve swimming lessons, coffee and cake, play park visits, children's birthday parties and yes - some record store related shenanigans. Oh, and hiccups. Lots of hiccups.
1. Soft Deadlines - "Triplicate" (Played courtesy of Soft Deadlines, Released under a Creative Commons licence)
2. Adam Stafford - "Taser Revelations (Hold On Children)" (Played courtesy of Adam Stafford / Song by Toad)
3. Jonnie Common - "More Oven Than Not" (Played courtesy of Song by Toad Records)
4. David Thomas Broughton - "Words of Art" (Played courtesy of Song by Toad Records)
5. King Post Kitsch - "Rebecca (demo)" (Played courtesy of King Post Kitsch)
6. OhBree - "Moon" (Played courtesy of OhBree, Released under a Creative Commons licence)
7. Pinact - "Everybody Says" (Played courtesy of Gerry Loves Records)