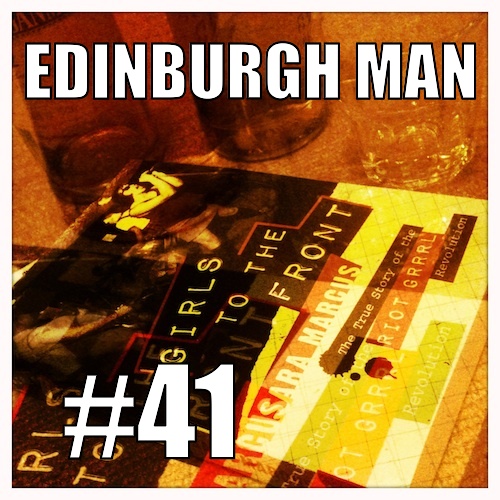 It's Burns Night! Actually, that's a lie. It was Burns Night. More specifically it was Burns Night when I recorded the show. That's my excuse for consuming two glasses of whisky while recording this week's podcast. That may also be the reason why it's an hour long show. I just kept going. Playing music, drinking whisky, and talking rubbish.
Anyhoo, a double length show for no reason other than I wanted to play lots of music, I think that's okay. There's some shoegaze sounds from Edinburgh School for the Deaf and The KVB, some lo-fi from Whiff Focker and Vincent Nifigance, some punk rock from Bratmobile, and loads, loads more. Pour yourself a whisky, and tuck into some haggis, neeps and tunes.
Podsafe music in this episode is played courtesy of IODAPromoNet, Rose Parade, Edinburgh School for the Deaf, Kill Rock Stars, Music Alley, The Son(s), Baaneex, Sub Pop. Tracks 4, 7, 8 and 10 are released under Creative Commons licences. Edinburgh Man Podcasts is a member of the Association of Music Podcasting.
1. The Pains of Being Pure at Heart - "Heart in Your Heartbreak" (download track free and buy from iTunes)
2. Rose Parade - "Grace" (listen to track free and buy from Soundcloud)
3. Edinburgh School for the Deaf - "11 Kinds of Loneliness" (listen to track free on Soundcloud)
4. The KVB - "It's Too Late" (download single free from Beko DSL)
5. Bratmobile - "Panik" (download track free and buy album from Kill Rock Stars)
6. Beat Happening - "Bonfire" (buy album from K Records)
7. Whiff Focker - "In the End Electric" (download album free from CLLCT)
8. Vincent Nifigance - "Twinkle Town Morning/Wake-up" (download album free from CLLCT)
9. The Son(s) - "Half Lived" (listen to track free on Soundcloud)
10. The Savings and Loan - "Swallows" (download track free and buy album from Song By Toad Records)
11. Baaneex - "Hoovering Concrete - For Sidney's Son" (download track free from Soundcloud)
12. The Twilight Singers - "On The Corner" (download track free and buy album from Sub Pop)