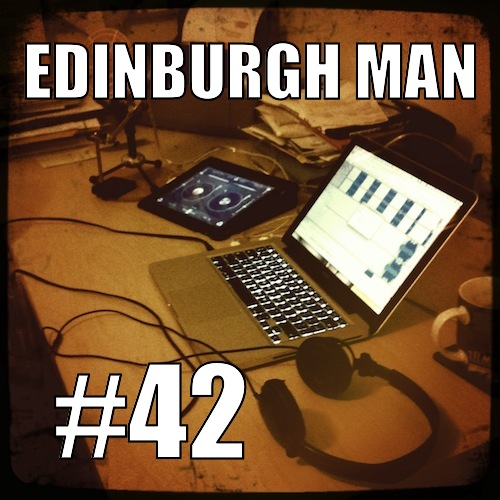 It seems to be ridiculously stormy outside in Edinburgh as I record this. I even got covered with snow on the way into work today. Crazy. Anyway, I'm tucked away in the back room, since this seems to have the least amount of wind and rain battering on the window. It still manages to distract me during the show though. Unfortunately Hipstamatic can't really capture the full force of a stormy Scottish night, so here's a photo of my desk in the back room instead. Complete with a Marmite brand mug of tea.
On today's show we start with a track from ex-Sleater-Kinney singer Corin Tucker, a brilliant song from Schwervon! who are currently on tour in the UK with The Vaselines, and we play not one, not two, but three tracks from Scottish bands! Including the first song off the new album by The Son(s).
Podsafe music in this episode is played courtesy of Kill Rock Stars, Olive Juice Music, Olive Grove Records, The Last of Barrett's Privateers. Tracks 3 is released under Creative Commons licences. Edinburgh Man Podcasts is a member of the Association of Music Podcasting.
1. Corin Tucker Band - "Riley" (download track free and buy album from Kill Rock Stars)
2. Magnetic Island - "Shake The Fog" (download track free from bandcamp)
3. Schwervon! - "Dinner" (buy album from Bandcamp or Olive Juice Music)
4. Shambles Miller - "Things That Make Me Angry" (buy EP from Bandcamp)
5. The Son(s) - "Dogs, Boys & Men" (download track free from Bandcamp)
6. The Last of Barrett's Privateers - "Harbour Wall" (download EP free from SoundCloud)