Madness. I've left recording the podcast to the last possible minute. So it's about as "live" as you can get with this sort of thing. It was also a bit of a nightmare to record. I ended up recording it under a little fort, which was quite uncomfortable, so apologies if this comes across on the show.
Back when I started doing the podcast I always recorded it on the Thursday night. But back then I wasn't so fussed with doing a proper blog post, and getting the sound levels all right. So, for the last while I've been recording the show on a Wednesday or even a Tuesday night. But, for what ever reason I've been a bit slack this week and it's all come down to the wire... anyway... let's go!
On today's show there's a track by Edinburgh band Sebastian Dangerfield. It's from their new EP which has a launch party at Edinburgh College of Art on the 22nd of this month. There's also a great fun track from the Thao and Mirah album that comes out towards the end of the month on Kill Rock Stars, and a brilliant track from Conquering Animal Sound's Kammerspiel album. Lots more music besides, and a bit of the old chat.
Oh, and this weeks Hipstamatic is The Spook School. Who played a blinding debut gig on Sunday night at Henry's Cellar Bar. If you haven't already, check out the previous two episodes of the podcast - they each have a track from The Spook School. Your new favourite band.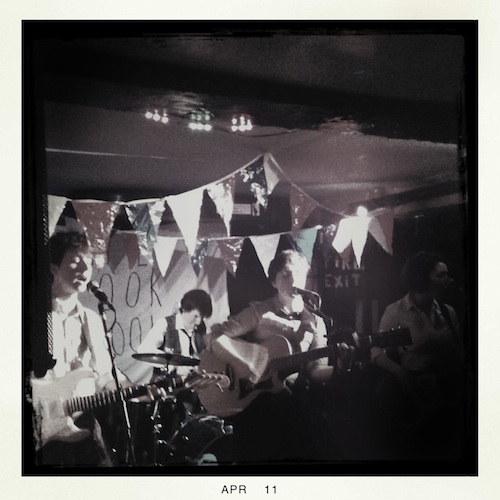 Podsafe music in this episode is played courtesy of Kill Rock Stars, Sebastian Dangerfield, Conquering Animal Sound, EardrumsPop and Dressed Like Wolves. Tracks 4 is released under a Creative Commons licence. Edinburgh Man Podcasts is a member of the Association of Music Podcasting.
1. Thao and Mirah - "Eleven" (download track free and buy album from Kill Rock Stars)
2. Sebastian Dangerfield - "You Played Your Part, Singer!" (buy EP from Bandcamp)
3. Conquering Animal Sound - "Tracer" (buy album from iTunes)
4. Early to Bed - "Till We Arrive" (download EP free from EardrumsPop)
5. Dressed Like Wolves - "Lakes, Ghosts and That" (buy album from Bandcamp)