Last weekend was Record Store Day, and I seemed to spends lots of money on a whole stack of vinyl, and saw some great live music. It all started at some ridiculously early time of the morning, and when I got down to Avalanche Records in Edinburgh I was still the ninth person in the queue! The main thing was, I got all the records I wanted to get - including a great re-pressing of Big Star's III. However, due to some bad planning I was a bit late getting back there to see Frightened Rabbit perform in store. This week's Hipstamatic is my view when they were playing... from out in the street!
Anyway, on today's show there's one track from a Record Store Day release - the Panda Bear album, and a track from 1991 by Unwound, a band featured on a great Kill Rock Stars compilation that had a 20th anniversary re-pressing. Lot's of other great music, including Nan & The One Night Stands, and a track from the new Crystal Stilts album.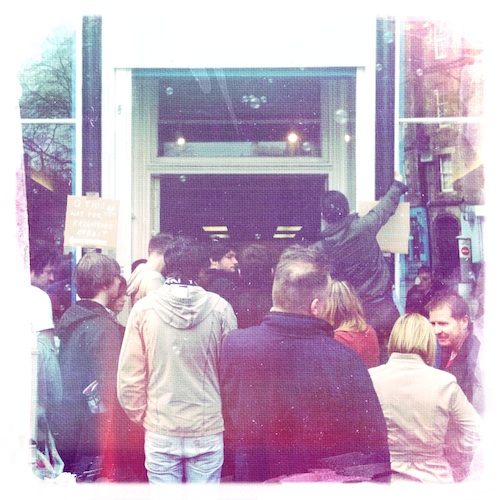 Podsafe music in this episode is played courtesy of IODAPromonet, Kill Rock Stars and Olive Juice Music. Tracks 4 and 6 are released under a Creative Commons licence. Edinburgh Man Podcasts is a member of the Association of Music Podcasting.