I just recorded this podcast about 30 minutes ago. And like a crazy person I recorded it live... and actually broadcasted it live too! And people actually  listened! What I'm trying to say is that it was even more shambolic than normal.
As seems to happen when you're off work for a while, after a few days your body eventually realises that it's time to relax and all manner of viruses and lurgies take over. So on last Saturday, after doing very little for just over a week, I came down with the cold. I've been pretty croaky for a few days, so had to record this week's show at the last minute so I'd actually be able to speak!
Anyway. This weekend I braved illness and went along to the (free) Grassmarket festival in the centre of Edinburgh. There were loads of great local bands, including the subject of this week's Hipstamatic - Edinburgh School for the Deaf. Despite having a drunk Mark E. Smith lookalike dancing in front of them for much of their set (he's the one on the right, by the way), they played a blinder. Nice and loud... so much so that a woman from the council appeared and made them turn off the PA with one more track still to play. Outragous.
There's a track from Edinburgh School for the Deaf's new single on the show today, also music from Magnetic Island, Randolph's Leap, and more.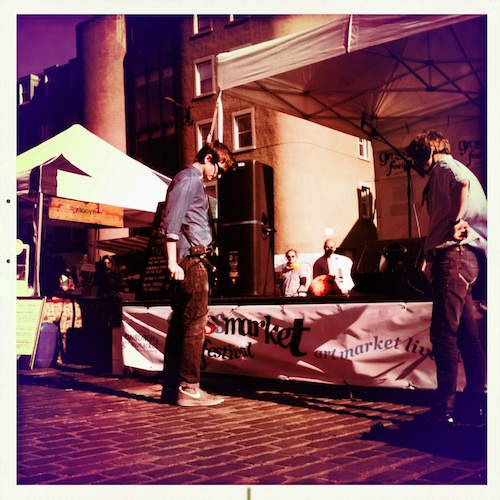 Podsafe music in this episode is played courtesy of Olive Grove Records, IODAPromonet / Slumberland Records, Bubblegum Records and Mike Nisbet. Tracks 2 and 3 are released under Creative Commons Licences. Edinburgh Man Podcasts is a member of the Association of Music Podcasting.