A bit more laid back than the craziness of last week's podcast, hopefully. Although to be honest, part of me is still buzzing from this weekend's great free in-store gig at Avalanche Records by Kid Canaveral (see this week's Hipstamatic for details) to support the re-release of their brilliant album on Fence records (and its first release on vinyl).
By some way of explanation, last week I did the foolish thing of having a clock in front of me while recording the podcast. This was because I had an appointment to keep after the show, but in the end it put me on edge and exacerbated my already fragile condition. The result was what @ArtIdiot on twitter described as "golden gonzo chat"... Well, I'm not sure about the goldeness of it, but at least one person enjoyed the ramblings.
On today's show. I try to make it more about the music, and decide not to worry about the running time. From a rocking start with Edinburgh's Supermarionation, through to shoegaze from Australia's COLOURS at the end, it's a rock filled, lo-fi fuelled show.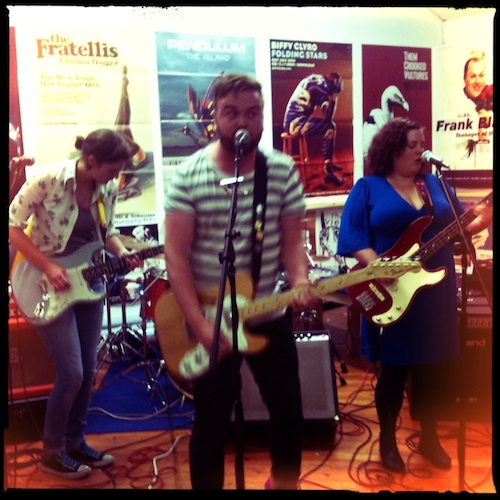 Podsafe music in this episode is played courtesy of Supermarionation, Tiger & Panda / Polite Records, Sea Birds, Gerry Loves Records, Song by Toad, Kill Rock Stars and BEKO DSL. Tracks 4 and 7 are released under Creative Commons Licences. Edinburgh Man Podcasts is a member of the Association of Music Podcasting.