The last proper podcast for some time… The city is about to get crazy. Purple cows are being inflated, dusty cellars are being converted into overheating stand-up comedy venues, and the population of the city is swelling in size. The Edinburgh Festival (and the Edinburgh Festival Fringe) is upon us. Hopefully, just like last year, there'll be some special episodes of the podcast recorded over the Fringe. But, just like last year, it's already turning into a hectic looking month. Fingers crossed some special shows can be sorted out. Check out the @edinburgh_man twitter feed throughout the month for more info.
I'm a tad worn out this week too. Which is no way to start the festival. Last weekend we went for a city break down in London. I'm not sure why I thought this would be relaxing. It never is. On the plus side, much vinyl was purchased, included a track featured in tonights show. Would you believe I've got to go down to London again tomorrow… and on a train at 5.40am too! Something tells me this is going to be a tiring month.
This week's Hipstamatic is from that trip down to London. A 60's style image for a 60's style building.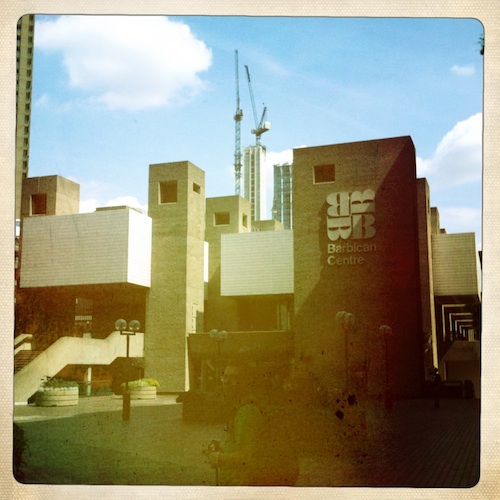 Podsafe music in this episode is played courtesy of IODAPromonet / Galaxia Records, Kill Rock Stars, IODAPromonet / Slumberland Records, Gerry Loves Records. Tracks 4 and 6 are released under Creative Commons Licences. Edinburgh Man Podcasts is a member of the Association of Music Podcasting.
1. Tomorrow's Tulips – "Eternally Teenage" (download track free and buy album from iTunes)
2. The Gossip – "Ain't It The Truth" (download track and buy from Kill Rock Stars)
3. Brilliant Colors – "How Much Younger" (download track free and get more on this album)
4. Accordion Boy – "Smells Like Healthy Bats" (download album free from CLLCT)
5. Lady North – "Rub 'N' Scrub" (buy single from Bandcamp)
6. Sea Birds – "Cloaks" (download album free from CLLCT)