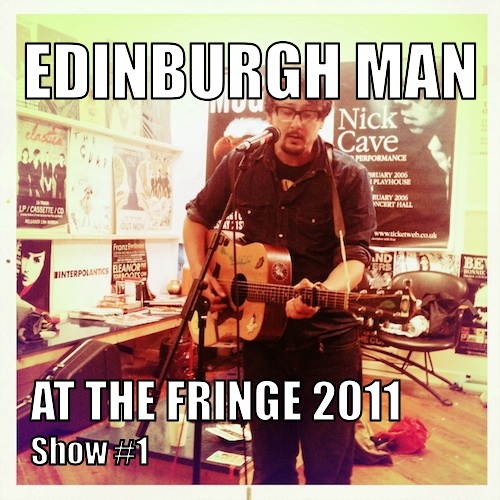 It's the Edinburgh Festival Fringe all over again! Already! It really doesn't seem like 12 months ago that we stood in the Pleasance Courtyard, waiting in the queue for comedy show after comedy show, trying to keep out of the rain.
It also feels like this first weekend of the Fringe has been the wettest start for some time. We had hoped, just liked last year, to record the podcast sitting on a picnic table in the Pleasance, supping on some beer, and enjoying the sun. Instead, we were sheltering from the rain in the bar of the echoey Pleasance Dome. We also haven't even been to see any shows yet! So this is very much a preview edition. Guess what, we talk nonsense, and play some music. Nothing really has changed in the last 12 months.
This week's fringe Hipstamatic is Dan Willson from Withered Hand sporting this season's 'double denim' look at the afternoon's in-store performance at Avalanche Records. As usual, it was a blinder.
Podsafe music in this episode is played courtesy of The Spook School, PET, My Tiny Robots, IODAPromonet / Absolute Kosher Records, Song by Toad. Tracks 1, 5 and 6 are released under Creative Commons Licences. Edinburgh Man Podcasts is a member of the Association of Music Podcasting.
1. The Spook School – "History" (download track free from Bandcamp)
2. PET – "What You Building?" (stream track from Soundcloud)
3. My Tiny Robots – "Rock Bossa Nova Fourbeat Black" (buy EP from Bandcamp)
4. Withered Hand – "New Dawn" (download track free and buy album from iTunes)
5. Holy Konni – "flying around in space" (buy album for 'name your price' from Bandcamp)
6. Meursault – "Flittin' (Demo)" (download album free from Bandcamp)