With David MacGregor from Kid Canaveral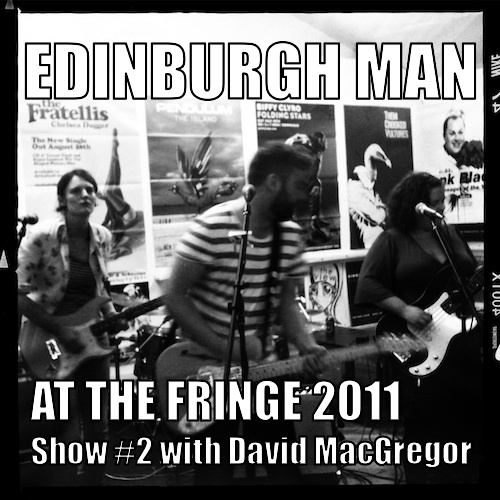 One week into the fringe and the festival is starting to hit its stride. Gordon, of course, still hasn't been to any shows. But no matter, I went to five in one day yesterday, and I'm feeling the strain a bit today. We've moved outside, lured by the promise of some sun that didn't really materialise. The Edinburgh wind however did... as demonstrated by the buffeting on the microphone. Apologies for that. Hopefully you can still hear our ramblings. Anyway, there are reviews today, especially for some of the free fringe shows. And also a few tips for getting into the rather busy free fringe shows. Don't say we don't provide a public service.
Finally, with massive thanks to Avalanche Records, we talk to David from Kid Canaveral. They've had a hectic year so far including playing SXSW along with King Creosote, and signing to Fence Records to re-release their brilliant debut album SHOUTING at Wildlife. But more importantly, in terms of the Fringe at least, they are playing at The Liquid Rooms tomorrow night along with Over The Wall and Admiral Fallow. Get your tickets here!
Today's Hipstamatic is a bit of a cheat! It's from the Kid Canaveral in-store at Avalanche Records a few weeks back, but it seems like an appropriate image for this show.
Podsafe music in this episode is played courtesy of Plastic Animals, Kid Canaveral, Olive Grove Records and The Last Battle. Tracks 2, and 3 are released under Creative Commons Licences. Edinburgh Man Podcasts is a member of the Association of Music Podcasting.
1. Plastic Animals – "It Fell Apart" (buy EP from Bandcamp)
2. 50FOOTWAVE – "A Rushing" (download EP free from cashmusic.org)
3. Conveyor – "Sun Ray" (buy EP from Bandcamp)
4. Kid Canaveral – "You Only Went Out To Get Drunk Last Night" (buy from Kid Canaveral or Bandcamp)
5. Randolph's Leap – "Deep Blue Sea" (buy album from Bandcamp)
6. The Last Battle – "Viv Nicholson" (by EP from Bandcamp)