With Josie Long and Shambles Miller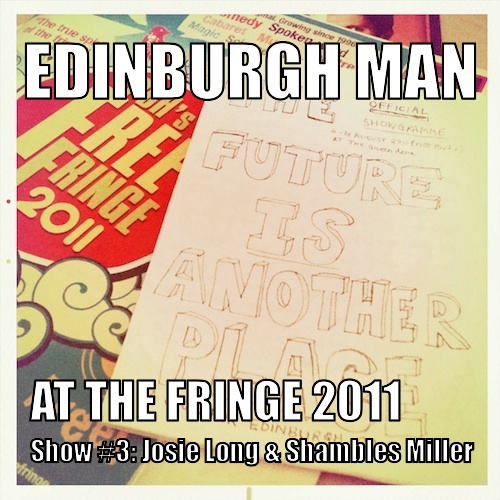 Another podcast from the Edinburgh Fringe! We're more than halfway through, but the fringe is really taking it's toll. So much so that we're one presenter down! Gordon has done a runner. The podcast and his Fringe schedule collided today, so you've just got me instead.
Actually, that's not true. You've got me, and Shambles Miller, and Josie Long! Two interviews on the podcast today. I chat to Josie Long about her brilliantly funny and politically charged show "The Future Is Another Place" which is on at the Pleasance Dome until Sunday the 28th (not the 22nd). It's not all politics, we also talk swimming, and nerd out a little bit while chatting about Scottish indie music.
Shambles Miller came over to Edinburgh last week to play a secret gig in the Blind Poet bar. We had a great chat afterwards, but beforehand, in torrential rain, Shambles played an acoustic track while sheltering in an alleyway off the Grassmarket. It's the first ever exclusive recording for the show! And it's re-assuringly lo-fi, with sounds of wind, rain and traffic in the background! You can see Shambles playing live during the Fringe in a real venue too. He's supporting Jack Savoretti at Cabaret Voltaire as part of the Edge Festival.
Podsafe music in this episode is played courtesy of IODAPromonet / Song by Toad, Sub Pop, Cancel the Astronauts, IODAPromonet / Fortuna POP!, Shambles Miller and IODAPromonet / Armellodie Records. Edinburgh Man Podcasts is a member of the Association of Music Podcasting.
1. Meursault - "Crank Resolutions" (download track free and buy album from iTunes)
2. Sebadoh - "Rebound" (download track free and buy from Sub Pop)
3. Cancel The Astronauts - "Funny for a Girl" (buy EP from Bandcamp)
4. Allo' Darlin - "If Loneliness Was Art" (download track free and buy album from iTunes)
5. Shambles Miller - "Aaarrgghhh!"
6. The Scottish Enlightenment - "St. Germain is Thick Tonight" (download track free and buy album from iTunes)