With Kurt Braunohler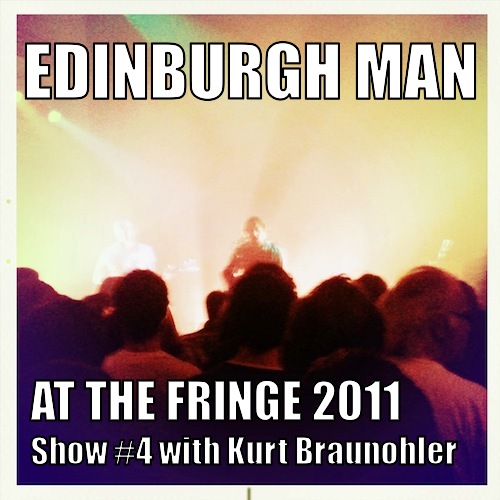 It's the last weekend of the Edinburgh Fringe 2011. Thankfully. I'm not sure how much longer I could have kept going. This week I've been to shows on all but one of the days. Gordon is back, and impressively he has been to some shows too! Outrageous.
It's basically a round up of what we've seen, we ramble about our favourite bits of the festival, play some music, and talk about things that you could go and see in the last few days. There's also a fun chat with comedian Kurt Braunohler, who is performing at the brilliant variety show Hot Tub with Kurt and Kristen with his comedy partner Kristen Schaal. You only have a few hours left to go and see it, because it's their last show tonight. But it'd be worth it.
Finally this week's Hipstamatic was from Withered Hand's glorious "homecoming" gig at the Queen's Hall on Thursday night. Hearing a massive crowd of people singing along to Religious Songs and No Cigarettes was incredible.
Warning: May contain some swears. I forget to say this in the show. But then, I forget to say a lot of things in the show.
Podsafe music in this episode is played courtesy of Supermarionation, Boompa Records and Olive Grove Records. Tracks 2, 3 and 4 are released under Creative Commons Licences. Edinburgh Man Podcasts is a member of the Association of Music Podcasting.
1. Supermarionation – "Those Home Girls" (buy EP from Supermationation)
2. 50FOOTWAVE – "Radiant Addict" (download track free from cashmusic.org)
3. Early to Bed – "Weathervane" (download EP free from EardrumsPop)
4. Procession – "Grand Ledge" (download album for name your price on Bandcamp)
5. Woodpigeon - "Invisible Friend" (buy LP from Bandcamp)
6. The Moth and the Mirror - "Lights in the Sky" (download free from Bandcamp)